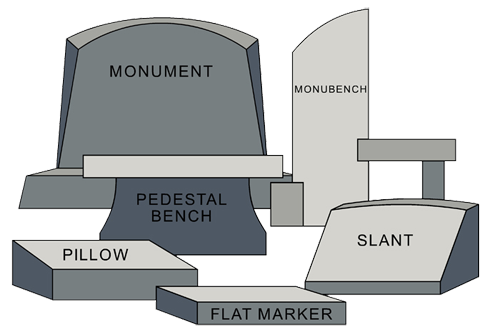 *Upright Monuments: available as either individual or companion memorials. Top portion is know as a "die", the bottom portion referred to as the "base".
*Flat Marker or Flush Marker: designed to lie flat at lawn level. Usually 4" thick and may be used for an individual or as a double width for a companion.
*Bevel Marker: also called a Hickey Marker has a slight bevel from back to front. May be used for individual or companion.
*Slanted Marker: Upright slant shaped marker – base optional. Tops can be Serpentine, Oval or Flat. May be used as an individual or companion marker.
*Bench: Can be used as a cemetery memorial or in a non-traditional garden or another place special to a loved one. Can be easily engraved for either an individual or companion. Benches come in a variety of shapes and sizes. An Urn Bench has space in the supports to provide a place to intern ashes.
*Cross: Many types of crosses are used as cemetery monuments. Crosses come in many forms - each having its own historic and symbolic meaning. The four crosses most commonly seen as cemetery monuments are:
*Latin Cross: a standard flat cross most common in Roman Catholic cemeteries.
*Calvary Cross: a Latin Cross with a three tiered base, symbolic of the Trinity or faith, hope and charity (love)
*Celtic Cross: dates back to the 5th century Celtic cultures of England. Very elaborate in decoration with a circular design at the crossbar representing eternity.
*Orthodox Cross: very popular in the early 20th century.